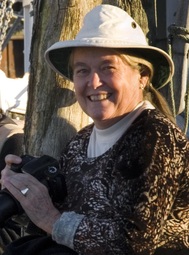 The digital and film archive that forms the basis of Patricia Stamp's photo art includes images from five continents, across an array of subject matter, from birds to mammals, plants, insects, landscapes, sculpture, under-water scenes, and a quirky take on everyday objects.
Patricia has been taking photographs since she was eight years old; her first camera was a box Brownie. Growing up in Africa, she had the opportunity to observe and record the behaviour of wild animals. She had abundant subject matter in the national parks she visited in her school holidays. She worked in black and white until her twenties, learning composition by her father's example, and darkroom techniques from her mother. She did portraits for her high school yearbook, was her university newspaper's photographer (taking pictures of Ravi Shankar, Ted Kennedy and Malcolm X), and was the photography editor for her university yearbook.
During a lengthy career as a professor of African and Development Studies at York University in Toronto, Canada, she continued to take pictures, shifting to colour slides and 35 mm format. She illustrated her popular articles with her pictures, and used her photo archive of people, places, and animals in her university and guest lectures. In 2004 she moved to digital photography, and following her retirement in 2007, founded Tiba Media, to promote her photo art and support her multi-media activities. She is currently presenting her work in several formats,
Patricia is currently presenting her work in several formats: limited-edition framed and gallery-wrapped canvas prints; Limited Edition framed and matted archival paper prints, and a gift-friendly format of 8 by 10 framed and unframed prints. As well, she is offering the option to order a picture, the customer choosing the size and finish (archival paper, watercolour paper; canvas gallery-wrapped or framed). She also accepts two types of commissions: one to photograph subjects of the customer's choice, including portraits (human or animal), events (such as charity concerts), and customers' houses or cottages. and two, to create high-quality reproductions of treasured old slides and snapshots, film or digital, for framing and gifts.
Patricia is a member of the
North York Visual Artists' Group (NYVA) and the Scarborough Arts Group,
She has exhibited for the past six years at the NYVA Annual Exhibition,Heliconian Hall, the Port Credit Art Show, three Scarborough Arts Annual Juried Exhibitions, the AWOL Gallery Annual Square Foot Show, the Transac Club, and York University.
In 2013 she joined the Toronto
Heliconian Club
, an organization for "for women in the arts and letters," founded in 1909, and headquartered at Heliconian Hall, a historic site in Yorkville, Toronto. She participates in the Humanities and Arts Sections, and has shown her work in a number of exhibitions there over the last four years, including the Contact photography exhibitions
"Encounters with Light"
(2014),
"Sentient Light"
(2015), and "Elemental Light" (2016).
Her solo show,
"Five Continents: Images from the Margins"
, took place at Heliconian Hall, Toronto from October 30th to November 25th, 2015.Following the well-attended opening reception on October 31st, two more Open House dates were also well attended. Patricia will be producing a coffee table book of the exhibition in 2017. See the "Five Continents" page for details.
---